Stiletto Piercing Supply is a new innovative company designed to bring the piercing industry new disposable products. Stiletto is a joint venture between companies in the USA, Canada, and China.  All of our products have gone through testing and have been evaluated by industry professionals. Our mission is to move the Piercing Industry into the disposable market, much like the Tattoo industry has already done.  Within the next 2 years, Stiletto Piercing Supply will have all its products available, allowing studios to function WITHOUT a sterilization room.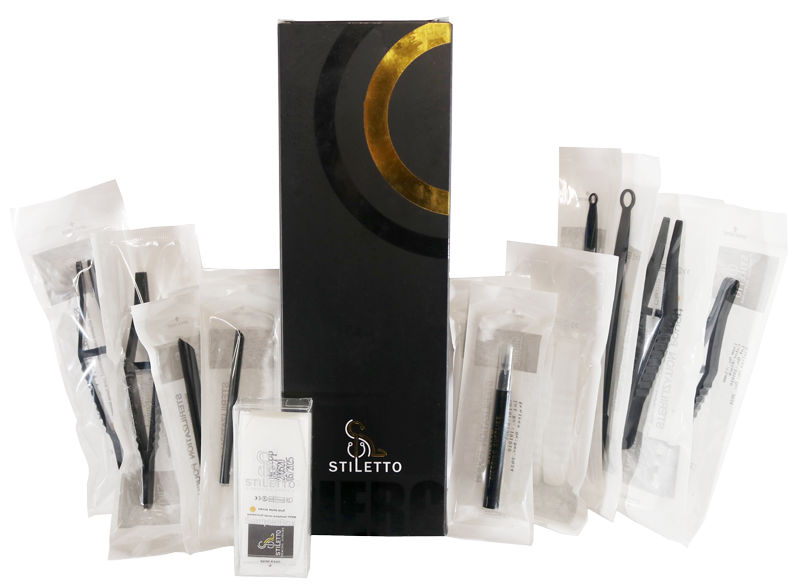 Many tattoo studios would like to pierce again but the tattoo industry has moved into the disposable realm over 13 years ago. Our products and the many we plan to produce will allow you to not have to have a sterilization room. Studies show that there is a saving in time and money when you switch to disposable products. If you pierce at conventions, you will also love our products. We are establishing a worldwide distribution network, so if we don't have one near you we hope to by the end of 2023.
In late 2023 Stiletto will also be producing an industry-first, pre-sterilized high-quality jewelry. We will be carrying all basic jewelry as well as many gold Pressfit options. 90% of our jewelry will be Ti6Al4V ELI, which is ASTM F-136 compliant. Our fixed bead rings will be the only jewelry that is ASTM F-138 compliant, this will be so you can bend the jewelry much easier than Ti rings. Stiletto also plans on having a worldwide distribution of our jewelry as well. We understand that many parts of the world don't have access to autoclaves, but this doesn't mean they shouldn't be left out of using high-quality jewelry.
Stiletto Has A
Class 7
Cleanroom
In order for a cleanroom to meet the class 7 specification, the following requirements must be met. The ISO 7 is a common clean cleanroom classification. A cleanroom must have less than 352,000 particles >0.5 micron per cubic meter and 60HEPA filtered air changes per hour. The equivalent FED standard is class 10.000 or 10,000 particles per cubic foot. Common applications are pharmacy USP800 compounding rooms, electronics manufacturing, and medical device manufacturing.
In order to achieve this, each individual entering the clean room must don shoe covers, hairnets, caps, gloves, facemask, and lab coat. Each worker has to walk through a special "air shower" which removes all particles from the person. A sophisticated air filtration system constantly monitors the complete room constantly cleaning the air to maintain the low particulates in the air.
easy to use – let us show you how
Learn More About Our Products
Sign Up for Updates and Exclusive Savings Offers